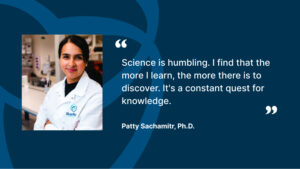 Across BlueRock, we strive to hire the best talent. To do that, we take an open-minded approach to career trajectory and experience. Look a little closer and you will see a diverse workforce with employees who have transitioned from academia to industry, across industries, or non-linear career paths, in addition to those who have dedicated their professional lives to life sciences companies.  
I have moved around quite a bit, living in Thailand, India, England, where I did my Ph.D., and finally Canada, where I moved for love since my husband is Canadian.
I did my Ph.D. at Oxford where I worked at the intersection of stem cell biology and immunology, focusing on making induced pluripotent stem cell (iPSC)-derived immune cells. When I moved to Canada, I decided to pursue my post-doc at the Hospital for Sick Children, where I studied adult glioblastoma, taking patient-derived cancer stem cells and trying to get rid of them using small molecules.
I knew that I wanted to work in biotech, particularly to work on iPSCs, which is my passion. When BlueRock was founded, I knew that I wanted to work there.
I left BlueRock for about a year then realized I missed the science we were doing. When I came back, I transitioned from Research to Process Development. If you had told me a couple of years ago that I'd be working in Process Development, I would have said 'How?!' But BlueRock wanted a biologist in this role, and I knew BlueRock was where I wanted to be. In this role, I am tasked with working cross-functionally to look at product quality and how we assess it. What does quality look like? What do safety and efficacy look like for a patient? This is a new area for me, and I learn something every day. I always thought I should become an expert in one area but it's amazing how all my varied past experiences have all come together in my current role.
Science is humbling. I find that the more I learn, the more there is to discover. It's a constant quest for knowledge.
My advice for those just starting out or who may be looking for career growth or evolution:
You can never really know all the jobs that exist in various industries, and what you might be a great fit for. Don't be afraid to reach out to people in the company or landscape and figure out what's out there.
Keep lines of communication open within your network. You'd be surprised how many people thought of me for things, and I try to pay that forward now that I'm on this side.
At the end of the day, it comes down to people. Find your network – your friends, your colleagues – and stay in touch.
While I am a BlueRock 'boomerang' and the company grew exponentially in just the one year that I was gone, one thing has remained and that is the feeling of passion, motivation, and amazing science.