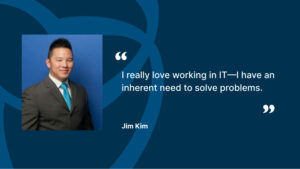 I really love working in IT – I have an inherent need to solve problems and be a bit of a detective. Out of school I didn't want to do IT. I loved computers but I thought doing it as a job would put a damper on my passion for it.
About a decade into my career, I found myself going from fixing a laptop, to doing an audition in front of one of the most prominent casting agents in Canada.
In 2014, I was working as an IT manager and bartender at Second City in Toronto. Second City is an improvisational comedy venue and training program. It produced television shows in Canada and the U.S. with big names like Eugene Levy, Catherine O'Hara, Colin Mochrie, and many more. I once got to meet Geddy Lee! As a huge Rush fan, that was definitely a highlight.
At my first Second City holiday party, there was a talent show. Several people had asked me if I was doing anything for it. I hadn't considered it, but figured why not try stand up? I was nervous, but everyone assured me it was a safe space. Seasoned performers were coming up to me after my set to congratulate me on a job well done and were surprised that I had never done it before.
I decided to try my hand at holiday party stand up again the following year. Friends of mine who produced comedy shows asked me if I wanted in. I'd never imagined myself performing, but that's ultimately how I started doing stand-up comedy.
Then one day, I was helping a casting agent with an IT issue she was having. She asked if I was an actor. I told her I wasn't, but she promptly told me to go into the other room and introduce myself. Suddenly, I found myself in an audition room, with cameras and casting people! They gave me a scenario to act out. I had no idea what was happening! Ultimately, I didn't get cast, but the next day — I had an agent!
From there, I spent a half decade or so working in commercials, TV, film … I even did a couple of plays. One day, a friend of mine was driving through Calgary and called to say that she'd seen my face on a billboard!
By far my favorite part about doing comedy was the camaraderie – going to the bar after a show and just having conversations with comics – obviously they're just funny people, but I really enjoyed their takes on life. We'd talk about our sets, and the people in the crowd. That's what I miss most.
I don't really miss the film and TV world because — as good of a gig as it was — it was often boring. It's a lot of "hurry up and wait" (and eat craft services). I always continued to do freelance IT work on the side, and ultimately left that world to pursue IT full time.
Maybe when I retire, I'll get back into it. At this stage of my life, I'm really enjoying where I'm at – I can spend time with my family, focus on my passion for IT. But I will never forget the friends I made and the unique experiences I had through this totally unexpected chapter of my life.